Getting back at this Bvlgari Carbon Gold replica watch with a video review this time so we can get a better view on it from all angles. This is one of the cleanest and simplest Bvlgari replica watches I reviewed on my blog and it's a good clone too.
It's hard to have someone suspect this for a fake Bvlgari because they're not as expensive and popular. At just a little over $2k for the original this baby looks amazing as it is.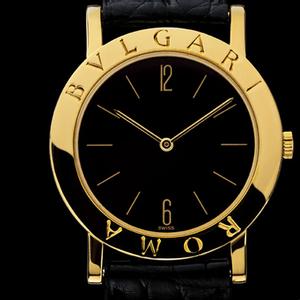 Don't get any cleaner than this but those rose gold accents and hands and markers kill it. They literally make the watch. The glossy black plated stainless steel case does the trick as well and it looks so good and new and posh. This is very much an unisex piece in my opinion and I do like unisex pieces, they just look more stylish coming from a guy's point of view because the ladies fake watches section is always pretty crazy with design and looks and a jewelry-like feel.
See-through back case exposes the Japanese automatic movement that's reliable and precise. Not a lot of design on it as it is plain and has no engravings. Would have loved if it had a Bvlgari marking to be honest with you. It really adds up to the looks and overall feel. Seconds hand sweeps nicely and the hack mechanism trips when setting the time so it's all good form the movements point of view too.
I'm definitely giving this fake Bvlgari watch the thumbs up. Looks good and it feels good on the hand. My friend's dad is really happy with it too so that's all that matters to me at the end of the day.